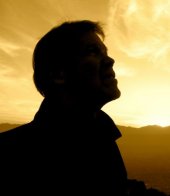 About Bruce Hibbard
Music has always been a part of Bruce Hibbard's life. Growing up in a musically diverse family allowed him to be introduced to different instruments and varied styles of music at a very early age. His parents have been involved in church work in Oklahoma City for over 45 years. Bruce began playing in church at the age of 12 and was writing Christian music by his late teens. As his musical talents developed, he began working with other local musicians, playing in groups such as Ascension and Sonlight. By his early twenties, Bruce was involved with and traveled extensively with The Amplified Version, The Paul Clark Band and Phil Keaggy and pursued his own personal artistry. Some of Bruce's early musical friends and mentors were Harlan Rodgers, Hadley Hockensmith, Bill Maxwell, Kelly Willard, Jonathan David Brown and Keith Edwards, all of whom resided in Oklahoma City during those days.
A Light Within, Bruce's first album, was released in 1977. This project contained many songs that were recorded by other artists. He was soon signed by Word Records as a staff writer and his position eventually led to an artist deal. In 1981 Word released Bruce's second album on the Myrrh label, Never Turnin' Back. Co-written and produced by Hadley Hockensmith, Never Turnin' Back was a critically acclaimed CCM album which produced three hit singles. You're So Good To Me, a #1 single, remained in the top ten on national Christian radio for over two months. Bruce's extensive writing career includes covers by Amy Grant, Jaci Velasquez, Scott Wesley Brown, The Imperials, Andrus Blackwood and Company and many more.
Bruce Hibbard continues to write, sing and produce. In 2000, he released Time Waits, a pop jazz offering, on his own label VIZOR MUSIC. Now in 2008, Bruce brings his Christian music back to the forefront with a compilation of old and new songs on Heaven's Gold Collection.
He has been blessed to have had two wonderful daughters. Melissa is married and currently living in Brooklyn, New York. She and her husband are film makers and have created several documentaries and full feature films. Melanie has preceded us all to Heaven and she will be forever loved and remembered. Her art is a gift to us all.
Bruce is married and is living in Salt Lake City, Utah. His wife, Julie, is a doctor and has been an important part of his music. She has co-written many of the songs on Time Waits and Heaven's Gold and has performed as a background vocalist on the projects.